High Quality Elemental Food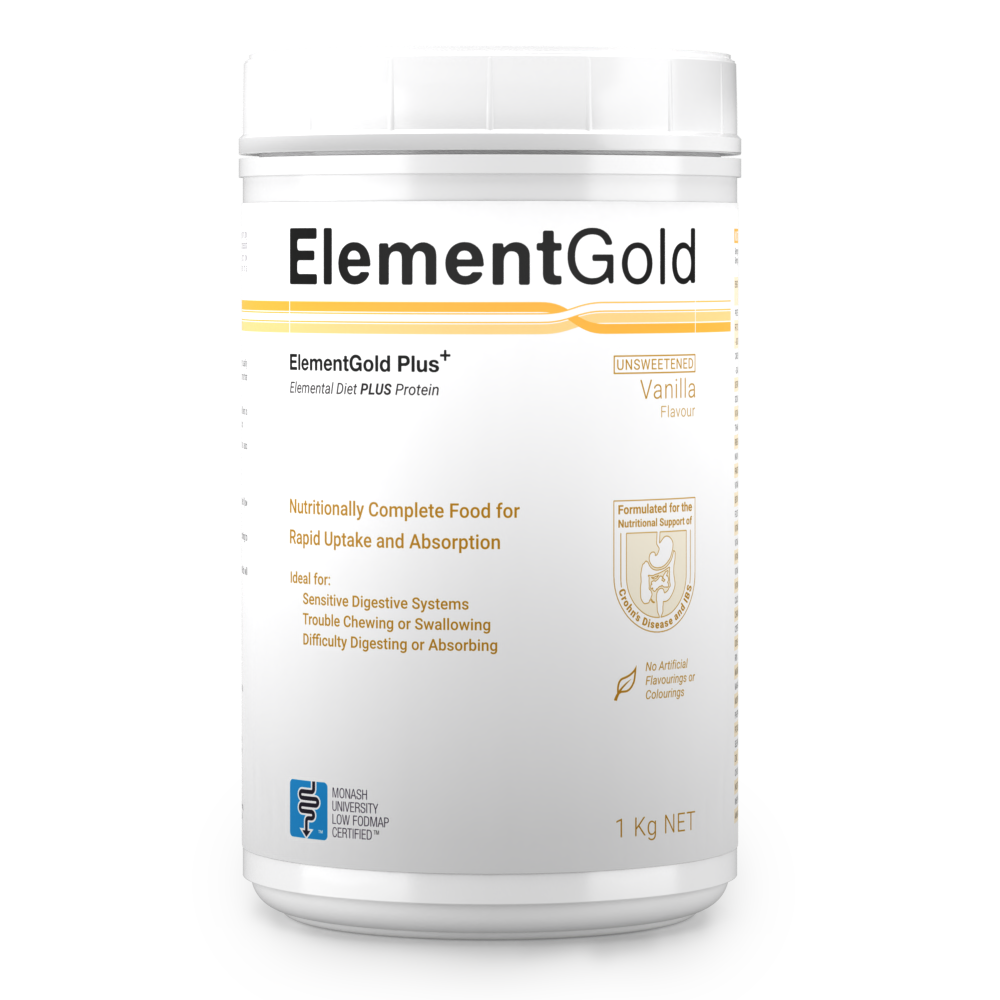 A healthy balanced diet of natural food is always ideal but sometimes that isn't possible and if a health issue is causing you to alter your dietary habits you might be at risk of not getting the nutrition your body needs.
ElementGold Plus+ is a powdered elemental food with added protein, designed to provide balanced nutrition in the form of a tasty shake. Made from high quality ingredients for rapid absorption and to minimise triggering of sensitive digestive systems.
Where to Buy
ElementGold Plus+ is available online and through a growing range of stockists.
BUY >



Details >




Details >




Details >




Details >

ElementGold Plus+
ElementGold Plus+ Unsweetened
ElementGold Plus+ Vegan Unsweetened
Flavouring
Chocolate
Unsweetened Vanilla
Unsweetened Berry
Unsweetened Caramel
Added Protein
Whey Protein Isolate (>97% pure protein by Ion-Exchange)
Rice Protein Isolate
Sweetener
Fructose and Dextrose
No Added Sweetener
Carbohydrate
Maltodextrin (Tapioca)
Free-Form Amino Acids
L-Alanine, L-Aspartic Acid, L-Cysteine, L-Glutamic Acid, L-Glutamine, Glycine, L-Proline, L-Serine, L-Threonine, L-Tyrosine
Minerals
Calcium phosphate tribasic, Chromium Picolinate, Copper Citrate, Ferric Pyrophosphate, Magnesium Citrate, Manganese Citrate, Potassium Citrate, Potassium Iodide, Selenium Methionine, Sodium Chloride, Sodium Molybdate Zinc Citrate.
Vitamins
Choline Bitartrate, Inositol, Vitamin E (d-α-tocopheryl acetate), Vitamin C (calcium ascorbate), Vitamin A Acetate, Beta-Carotene, Vitamin K1, Riboflavin, Thiamin Mononitrate, Pantothenic acid (Calcium Pantothenate) Niacin (Niacinamide),Vitamin B61 (Pyridoxine Hydrochloride), Vitamin D3, Biotin, Folate (Calcium L-methylfolate), Vitamin B12 (Hydroxocobalamin Acetate).
Low FODMAP
Fructose and Dextrose (NOT Low FODMAP)
Certified Low FODMAP3

Certified Low FODMAP3

Certified Low FODMAP3

Energy2
1560 KJ
1580 KJ
1600 KJ
1610 KJ
Protein Total2
32 g
31 g
31 g
28 g
Fat Total2
1.9 g
0.5 g
0.54 g
1 g
Carbohydrate Total2
55 g (22 g Sugars)
58 g (3.7 g Sugars)
60 g (3 g Sugars)
62 g (3.5 g Sugars)
Dietary Fibre Total2
2 g
0.3 g
2 g
1.8 g
Dietary Fibre Total2
1. Vitamin B6 form in Unsweetened Berry is Pyrodoxine-5'-Phosphate which other variants will transition to.
2. Amount per 100 g serve made up my adding 250 mL water.
3. Low FODMAP Certification
Please note that only unsweetened variants of ElementGold Plus+ are certified as Low FODMAP.
Monash University Low FODMAP Certified trade marks used under licence in Australia. Monash University Low FODMAP Certified™ products. One serving of certified products is low in FODMAPs and can assist with following the Monash University Low FODMAP Diet™. A strict low FODMAP diet should only be commenced under the supervision of a healthcare professional. Monash University has assessed this product as being low in FODMAPs only. Adding other foods may also make this product no longer low FODMAP compliant.