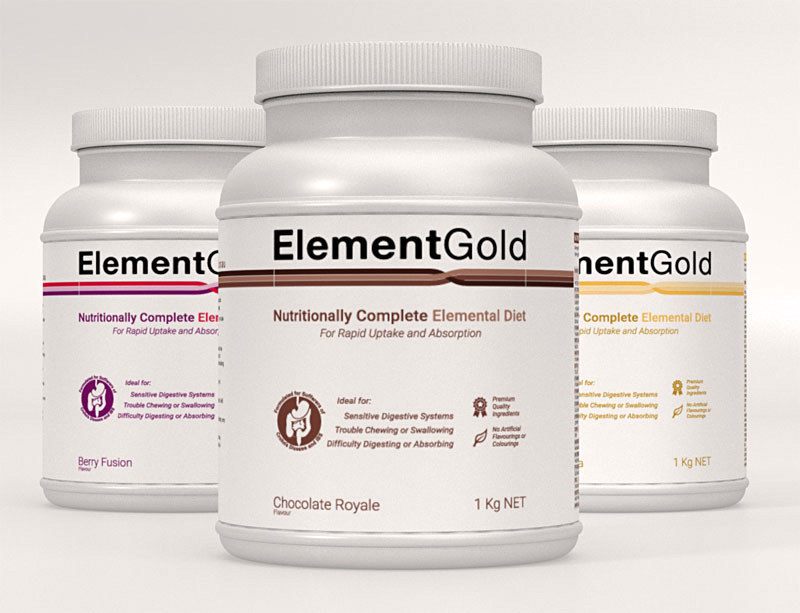 ElementGold is a great tasting, nutritionally complete, elemental diet shake formulated from the highest quality ingredients. Elemental diets promote rapid absorption of nutrients by presenting ingredients in forms that require the least work for the body to digest. Complying with an elemental diet can be challenging which is why ElementGold is available in four carefully formulated, tasty flavours.
Originally designed for sufferers of gastrointestinal conditions such as Crohn's Disease and Irritable Bowel Syndrome (IBS), ElementGold may assist in other situations where chewing or swallowing is difficult or absorption is compromised.
It is suitable as a sole source of nutrition for adults when used as directed by a medical professional.
Select a Flavour for Ingredient and Nutrition Information:
Great Taste Matters
A lot of effort has gone into ensuring ElementGold tastes great . The premium nutritional ingredients don't matter so much if the taste makes it too hard to stick with using it.
Premium Ingredients Matter
ElementGold is blended from premium ingredients to ensure effective nutrient absorption. Find out why using premium ingredients matters in the Ingredients Breakdown area.
Food for Special Medical Purposes
ElementGold conforms to the Food Standards Australia New Zealand code as a Food for Special Medical Purposes, including for use as a sole source of nutrition.