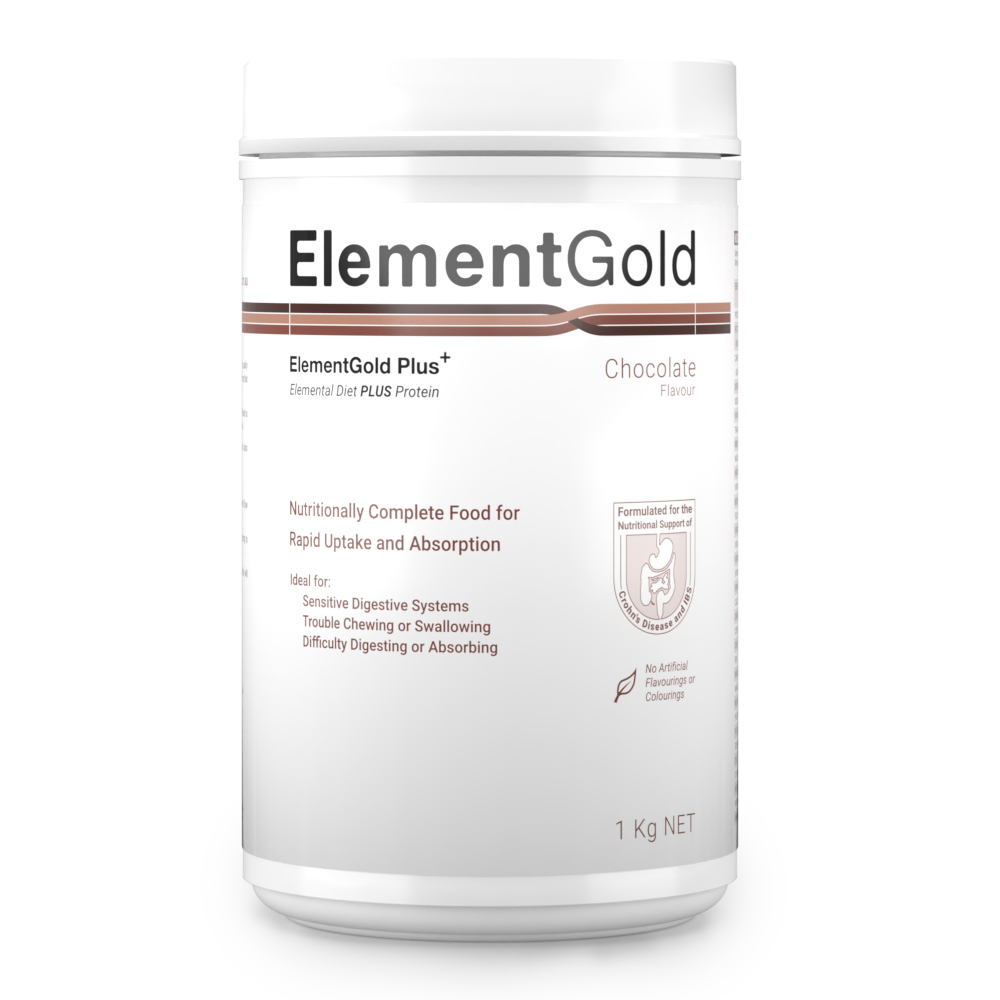 ElementGold Plus+ is the original nutritionally-complete ElementGold formula which adds high purity protein to a blend of vitamins, minerals, amino acids and carbohydrates. The Whey Protein Isolate is extracted using the Ion-Exchange method which is the best method available for extracting protein whilst leaving behind lactose, casein and mineral traces. The quality and purity of ingredients minimises triggering of sensitive digestive systems whilst providing the nutrition needed to support your recovery.
Elemental foods such as ElementGold Plus+ are useful for nutritional support in any case where rapid absorption or minimal triggering of the digestive system is required, such as:
Inflammatory Bowel Disease (IBD) such as Crohn's Disease
Irritable Bowel Syndrome (IBS)
Sensitive Digestive Systems
Trouble Chewing or Swallowing
Difficulty Deigesting or Absorbing
---
Ingredients
Base Nutrients
All ElementGold Plus+ and ElementGold Plus+ Vegan flavours contain the same base nutrient blend including 13 Vitamins, 14 minerals and 10 free-form amino acids. Please view the Nutrients page for more information about the base nutrient blend.
Plus Protein
In order to provide the right range and amount of proteins a premium Whey Protein Isolate (WPI) is added to ElementGold Plus+. Please view the Proteins page for more information about the Ion-Exchange WPI added to ElementGold Plus+ and why that is important for your nutrition.
Flavourings and Sweeteners
All flavourings and colourings are naturally derived.
ElementGold Plus+ is available sweetened and unsweetened versions. The unsweetened versions are intended to allow for a suitable sweetener to added for specific conditions or for a totally unsweetened experience.
---
Using
How to Use
A standard serve of ElementGold Plus+ is prepared using 100g (4 scoops using the included scoop) of ElementGold powder shaken or blended with 250 mL of water.
For more information about how to use ElementGold Plus+ including number of serves and possible extra ingredients, please view the section about useage details:
---