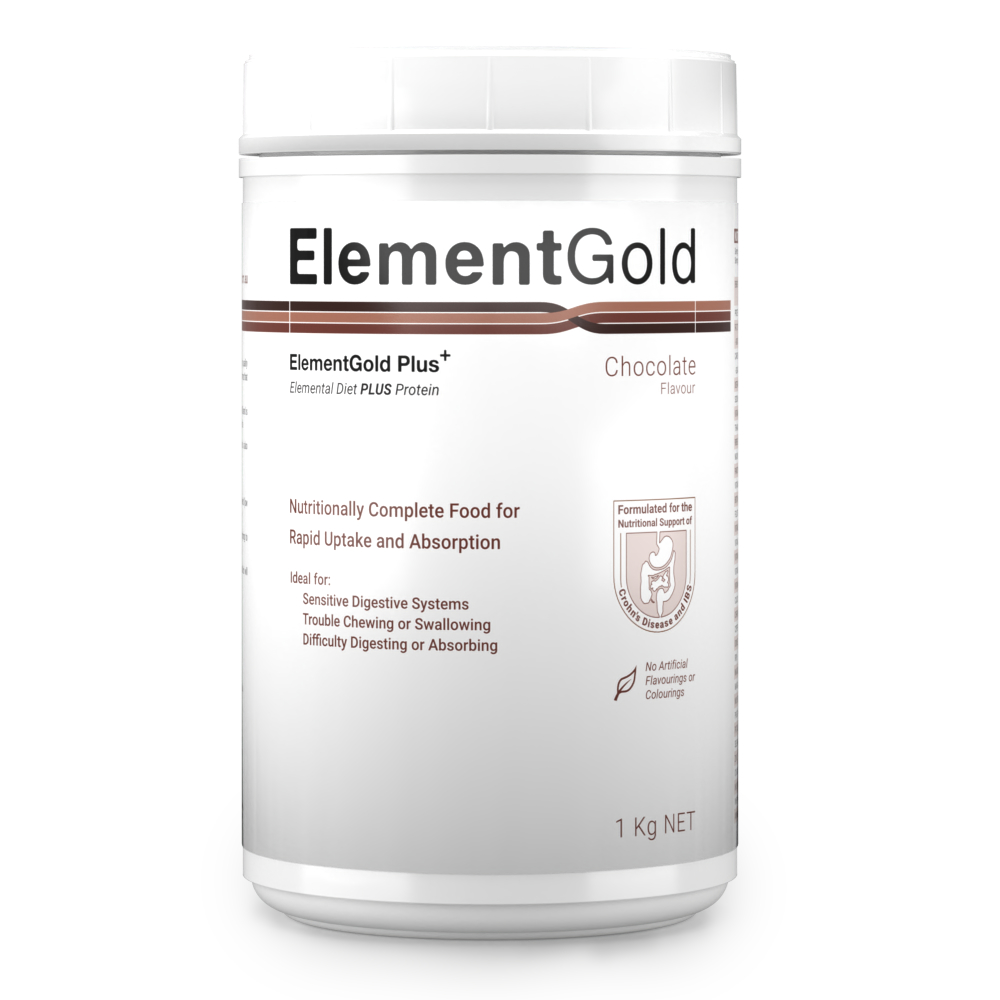 ElementGold Plus+ Chocolate is a tasty shake that allows for the rapid uptake and absorption of nutrients in a way that minimises the risk of triggering sensitive digestive systems.
Originally formulated for the nutritional support of sufferers of Crohn's Disease and IBS, these foods are also suitable for:
Sensitive Digestive Systems
Trouble Chewing or Swallowing
Difficulty Digesting or Absorbing
Ingredients
Base Nutrients
All ElementGold Plus+ and ElementGold Plus+ Vegan flavours contain the same base nutrient blend including 13 Vitamins, 14 minerals and 10 free-form amino acids. A full list of ingredients is below. Please view the Nutrients page for more information about the base nutrient blend.
Added Protein
In addition to the free-form amino acids in the Base Nutritional Formula, ElementGold Plus+ has added protein to approach the maximum amount of protein that can be absorbed from one meal.
The protein added to ElementGold Plus+ is Whey Protein Isolate (WPI) which has been extracted using the Ion-Exchange method. This premium form of WPI is the best method available for maximising extraction of pure protein whilst leaving behind fat, lactose, casein and mineral traces. The effectiveness of the Ion-Exchange method is such that you would need to consume over 290 x 325ml glasses of ElementGold Plus+ to consume the same amount of lactose as you would consumet in a 325ml glass of regular milk.
Sweetener and Flavourings
Although some sugars are naturally present (in ingredients such as maltodextrin), ElementGold Plus+ Chocolate is additionally sweetened with dextrose and fructose.
Please note that SIBO sufferers and those looking for low FODMAP food should instead choose an unsweetened flavour.
Flavourings and colourings used in ElementGold are all naturally derived.
FSMP
ElementGold Plus+ Chocolate is compliant with the Food For Special Medical Purposes (FSMP) part of the Australian Food Standards Code, including being suitable as a sole source of nutrition when used under medical supervision.
How to Use
A standard serve of ElementGold Plus+ is 100g (4 scoops using the included scoop) of ElementGold powder shaken or blended with 250 mL of water. A 1kg tub of ElementGold Plus+ Chocolate contains 10 standard serves.
Each standard serve provides about* 1580 kJ (378 kcal) of energy. Where increasing energy intake is desirable, an oil such as flax seed oil can be added to boost a serving by around 540 kJ.
* Each flavour is slightly different due to protein and flavouring differences.
As ElementGold Plus+ Chocolate is nutritionally balanced food, the main factor to consider is how much energy you need. The amount of energy we need from food varies from person to person due to a range of factors. As a broad simplification 8700 kJ is often quoted as an average adult daily energy requirement, which equates to about 5.5 standard servings of ElementGold per day.
INGREDIENTS: TAPIOCA MALTODEXTRIN, MILK PROTEIN (WHEY PROTEIN ISOLATE), DEXTROSE, FRUCTOSE, FLAVOURING (COCOA POWDER, VANILLA FLAVOUR, CHOCOLATE POWDER, COCOA BUTTER), AMINO ACIDS (L-GLUTAMINE, GLYCINE, L-ASPARTIC ACID, L-TYROSINE, L-PROLINE, L-ALANINE, L-THREONINE, L-SERINE, L-GLUTAMIC ACID, L-CYSTEINE), MINERALS (POTASSIUM CITRATE, CALCIUM PHOSPHATE TRIBASIC, SODIUM CHLORIDE, MAGNESIUM CITRATE, FERRIC PYROPHOSPHATE, ZINC CITRATE, MANGANESE CITRATE, POTASSIUM IODIDE, SELENIUM METHIONINE, COPPER CITRATE, CHROMIUM PICOLINATE, SODIUM MOLYBDATE), VITAMINS (CHOLINE BITARTRATE, INOSITOL, VITAMIN E (D-ALPHA-TOCOPHERYL ACETATE), CALCIUM ASCORBATE, BETA CAROTENE, VITAMIN K1, RIBOFLAVIN, THIAMIN MONONITRATE, CALCIUM PANTOTHENATE, NIACINAMIDE, VITAMIN A ACETATE, PYRIDOXINE HYDROCHLORIDE, VITAMIN D3, BIOTIN, FOLATE (CALCIUM L-METHYLFOLATE), VITAMIN B12 (HYDROXOCOBALAMIN ACETATE)), BAMBOO EXTRACT.
CONTAINS MILK.
Servings Per Package: 10
Serving Size: 100g
Units
Avg Quantity Per Serve + 250mL Water
Avg Quantity Per 100mL (Made up with Water)
PANTOTHENIC ACID
mg
2.7
0.85
WHEY PROTEIN ISOLATE
g
32
10
---