ElementGold Flavours
Compliance is a major contributor to the success of an elemental diet. Each ElementGold flavour has been carefully developed to ensure that you not only get the best quality nutrition in a shake but that you also look forward to it. The flavours can be consumed alone or mixed together to form new flavours. The Unsweetened Vanilla flavour is intended to allow your healthcare professional to select the sweetener you add to the shake, if any.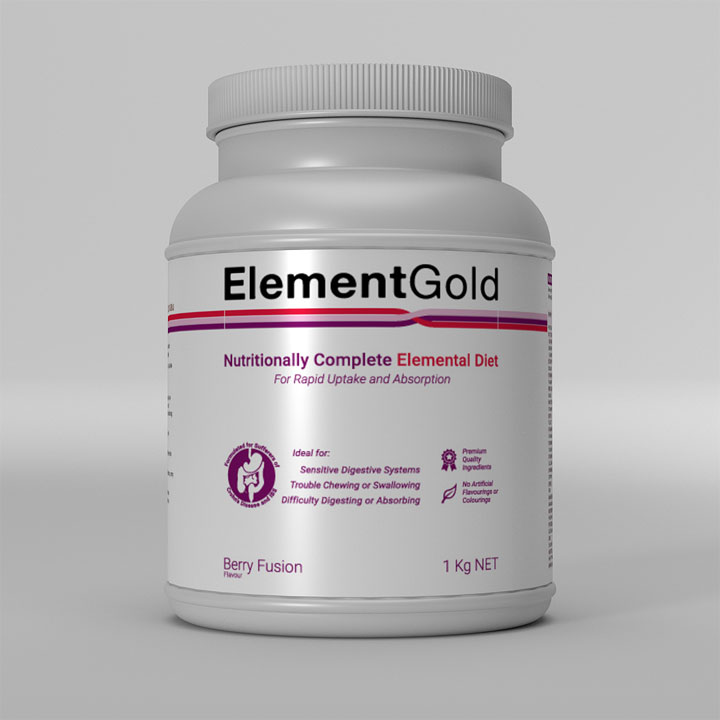 INGREDIENTS
INGREDIENTS:
TAPIOCA MALTODEXTRIN,
MILK
PROTEIN (WHEY PROTEIN ISOLATE), DEXTROSE, FLAVOURING (BERRY FLAVOUR, VANILLA FLAVOUR), AMINO ACIDS (L-GLUTAMINE, GLYCINE, L-ASPARTIC ACID, L-TYROSINE, L-PROLINE, L-ALANINE, L-THREONINE, L-SERINE, L-GLUTAMIC ACID, L-CYSTEINE), MINERALS (POTASSIUM CITRATE, CALCIUM PHOSPHATE TRIBASIC, SODIUM CHLORIDE, MAGNESIUM CITRATE, FERRIC PYROPHOSPHATE, ZINC CITRATE, MANGANESE CITRATE, POTASSIUM IODIDE, SELENIUM METHIONINE, COPPER CITRATE, CHROMIUM PICOLINATE, SODIUM MOLYBDATE), VITAMINS (CHOLINE BITARTRATE, INOSITOL, VITAMIN E (D-ALPHA-TOCOPHERYL ACETATE), CALCIUM ASCORBATE, BETA CAROTENE, VITAMIN K1, RIBOFLAVIN, THIAMIN MONONITRATE, CALCIUM PANTOTHENATE, NIACINAMIDE, VITAMIN A ACETATE, PYRIDOXINE HYDROCHLORIDE, VITAMIN D3, BIOTIN, FOLATE (CALCIUM L-METHYLFOLATE), VITAMIN B12 (HYDROXOCOBALAMIN ACETATE)), COLOUR, BAMBOO EXTRACT.
CONTAINS MILK.
Servings Per Package: 10
Serving Size: 100g
Units
Avg Quantity Per Serve + 250mL Water
Avg Quantity Per 100mL (Made up with Water)